Sandwood Bay - Full Kit Shoot
One off the bucket list!
Hidden away in Scotland's distant Northwest Highlands, lies a spectacular golden bay that is hemmed-in by rolling dunes and washed by heaving Atlantic breakers.  Wild and remote it surely is, being overlooked only by misted mountains and towering cliffs that are punctuated by a towering stack.  Here, only the crumbling ruins of an old shepherd's croft and a rough track mark any intrusion by man.  It is truly wonderful!
When I first laid eyes on Sandwood Bay some twenty years ago, I walked down from the cliffs and across the beach with tears streaming down my cheeks.  For never had I witnessed such rugged coastal beauty, and my senses were simply overloaded.  I fell under Sandwood's spell and it has proved a magnet ever since.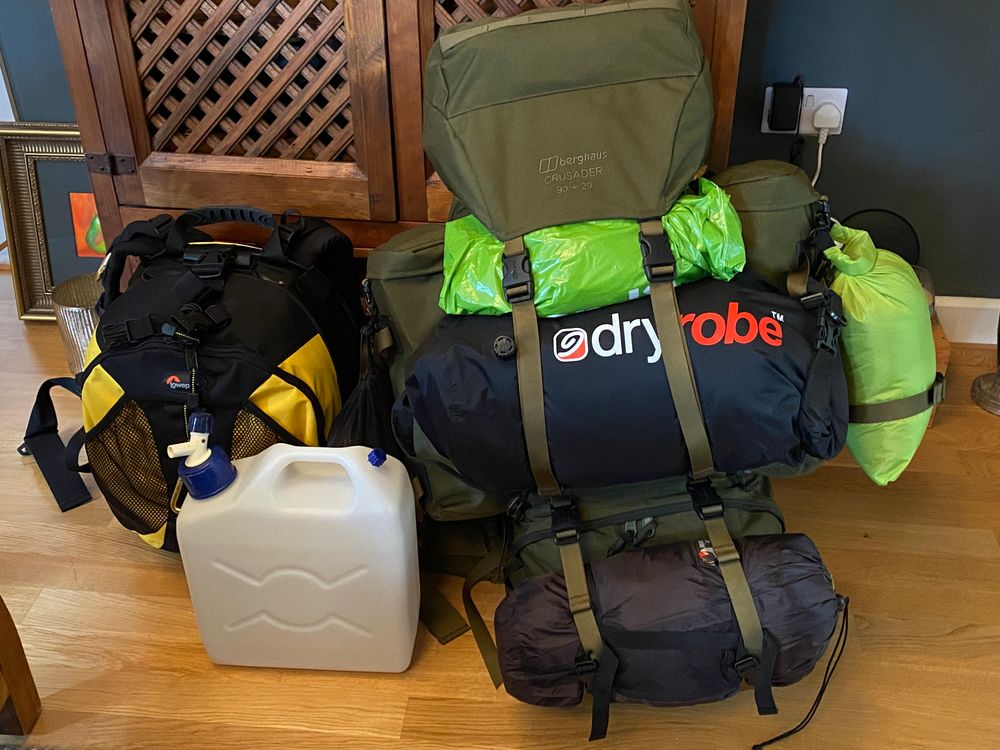 Am Buachaille away in the distance
Therefore, after a regular client from California had to cancel her workshop at the last minute, rather than have the week off, I decided to get busy and tick an entry off my photography bucket list.  I'd head up to the other end of the UK and shoot Sandwood with my full Seascape kit.  For while I have often returned with a camera, I have never shot it with all my gear to hand.  
Looking across Sandwood's reflective littoral toward Cape Wrath in the far distance.
For Sandwood lies at the end of a rugged trek over 4 miles of open moorland.  Therefore, along with even the most pared-down camping gear, the full kit is a lot to carry.  Back in early June 2009 I camped here for a week in order to be able to shoot the golden hours.  Yet I only took the bare camera essentials with me and I felt a bit restricted and compromised.
That's not to say I didn't  get some nice shots.  I am very proud to say one was purchased as a large format artwork to hang in the Officer's Mess at RAF Brize Norton - to remind the air crews of the many training sorties they flew over Sandwood on their way to the bombing range that lies off Cape Wrath.  Yet in recent years my photography approach has evolved and extended, and I have often found myself wanting to head back to Sandwood with my latest medium-format kit.  So here was the perfect opportunity.
I spent the days running-up to departure studying my apps and planning for the conditions they predicted and getting my camping gear together to make sure all was prepared for my departure early on the Monday morning.  But on the Saturday afternoon my plans where looking scuppered.  I was badly let down by an online supplier who advertised a big 120l ruck sack, that turned out to be more like 65l when it arrived.  There was no way everything I needed to take was going to fit in.  For alongside my seascape photography kit - that I carry in a Lowe Pro Trekker 550 back pack - I also had my tent, sleeping bag, stove, food, water, clothes plus my all-important chest waders and tripod - (Check the full list at the end of this article)
Fearing all was lost, I went online and luckily managed to locate and purchase a Berghaus 'Crusader' 90+20l bergen from UKMCPRO in Portsmouth.  I called them at 17.00 on the Saturday and I took delivery at 12.00 on the Sunday!  So a big 'Thank You' goes to the team there who saved my trip.  
When I unwrapped it, I was greatly relieved to find the Pro Trekker fitted snuggly inside the Crusader's main compartment, and that everything else went in the other pouches, side panniers and strapped amongst the webbing.  However, when I got out the scales, it all weighed in at hefty 48kg, so I would have to take the trek very steady!
Late on the Monday afternoon, after a 776 mile, 14 hour journey, I eventually pulled up at The Old Schoolhouse in Kinlochbervie.  This friendly hotel/restaurant has often been the base for my many visits to this spectacular region.  And after a delicious fish & chip supper washed down by a couple of local ales, I spent the evening resting-up and hit the sack good and early.  Next morning, after a hearty full-Scottish breakfast I set off.
The following few days were truly life-affirming and my time spent photographing Sandwood was perfect!  After negotiating the gruelling track, I set-up my tent on the grassy plateau overlooking the bay and revelled in my remote surroundings.  Unless there are other trekkers camping-up for the night, you rarely see other people at Sandwood, and only then as distant ramblers during the mid-day hours.  
I arrived in glorious solitude and spent the next three days with the bay pretty much to myself.  Tuesday afternoon saw a spitefully cold wind whipping in off the ocean, but as evening approached, cloud formations mustered that with the brooding Atlantic light, were looking absolutely wonderful.  So I headed down to the littoral in my waders and my full seascape kit got its first Sandwood outing.  
I like to be in place for a blue/golden hour shoot well before the sun's rise or set.  This way I can ease myself into the conditions, read the sea, check the cloud movement and not have to hurry my preparations.  It also ensures I get to shoot everything that transpires as the clouds roll in to mop-up the daylight.  So at the start of the shoot, with the sun still fairly high, I kicked-off using a Lee 4 Stop IRND filter to extend my exposure times to let me capture a bit of action in the waves while knocking back some of the reflective 'wild light' bouncing around over the littoral.  As the sun lowered, I changed down to a 2 Stop IRND before the it fully dropped into the horizon haze and the stoppers went back into their cases.  
During the opening or closing of a day - as clouds scud across the sun and sky, and refractive waves rush in over the wet, reflective sand - the white light value in the littoral changes constantly.  With so much else going on I need to pay attention to, I can't get fixated with continually changing my white balance settings, so I select AWB and move on to a more effective solution.  To retain the honest, natural colouration, which often gets lost in longer digital exposures  - as the photons radiating/vibrating at the slower 'blue end' of the spectrum overtake the 'faster end's' warmer red and yellow hues - I slipped in a Lee 81C soft grad colour correction filter into my stack.  Then I set my flash gun to second-curtain sync in order to energise those faster light photons I start off with a punchy 1/1 burst of diffused, angled light just as the camera shutter closes.  Thereafter, I reduce the power of the burst as the light recedes to avoid pooling highlights in my foreground.* 
Working with the fast-moving cloud formations I constantly changed my grad filters in order to hold the ever-evolving light as it ran across the horizon.  My go-to filter is a .75 Med Grad as it 'holds' both the sky and the sun's light path coming across the sea.  Then I will look at a ND.09 MG if the light is stronger.  I do have a ND1.2 MG if things are really bright, but it does render an 'armagedon' sky.  As the sun drops and the light path recedes, so I will consider changing over to ND Reverse Grads in order to retain detail and hold the light over the horizon while not 'bruising' the sky overhead.  
The evening drew to a close as the sun dropped into a heavy belt of cloud that swept across the horizon.  After a brief few minutes the light flattened and the clouds lost definition.  But I was very happy with what I had witnessed and I headed back to the tent knowing I had some good shots in the can.   
Back at the tent I put on the kettle, put my batteries on to charge and backed-up my images before climbing in to my sleeping bag and calling it a day.  That night saw the temperature drop to -2º and snow and sleet covered the tent when my 04.30 alarm went off to shoot the dawn.  
I had to break the ice in the water container in order to rustle up a brew, and sipped my piping-hot chai tea under insipid low cloud that closed everything down.  My apps had predicted this would be the case, so I took a walk to the shoreline just to have a look around.  The light that there was was coming from behind the distant mountains and I couldn't see a shot, so I headed back for breakfast.  
A short while later things were much brighter.  Sunshine broke over the bay to afford a host of shooting opportunities throughout the rest of the day.  Everything was perfectly rounded-off by a rich, reflective sundowning.  
Then on Thursday, my last full day, after a glorious pre-dawn, low cloud quickly swept in to block out the sun and a persistent mizzle kept me holed-up in the tent pretty much all day.  But I didn't mind because it gave me a chance to properly rest, catch-up on much needed sleep and prepare myself for the even harder trek back to 'civilisation'.
I thoroughly enjoyed the whole experience of ticking off my 'full kit Sandwood shoot'.  It presented real challenges in preparation, planning and execution that I often wondered if I was really up to in the days running up to it.  Yet now I can wholeheartedly say that I was!  Luckily I keep myself in a fair state of fitness and that was the key to being able to both take it on, and relishing my time there.  On my final morning, after I had broken camp and loaded-up again, as I walked away and rounded the hillside, I turned to take in a last look at the magnificence of Sandwood Bay, and promised I would be back.
The Sandwood Shoot Checklist
Camera Gear
• Lowe Pro Trekker 55
• Fuji GSF100 Camera
• Fuji 23-35mm Lens
• Fuji 32-64mm Lens
• Godox V1 Flashgun
• Arca Swiss D4 Head
• Benro Hydra 2 Tripod
• Chest Waders
ACCESSORIES - Storage Drive, Memory Cards, Spare Batteries, Charger Block & Leads, Wet Weather Cover, Headtorch, Remote Release, Lens Cloths, Lens Cleaner, Multi-Allen Key Tool 
Lens Filters
• Lee 100 Filter Hood
• Lee 100 Polariser
• Lee IRND 2 & 4 Stop
• Lee Super & Big Stop
• Lee 6 & 3 Stop
• Lee .75, .09 & 1.2 Med
• Lee .09 & 1.2 Rev
• Lee .06, .09, 1.2 Hard
• Lee .06, .09 Soft
• Lee 81B HG, 81B SG
• Lee 81C SG
• Lee Straw 2
• Lee Coral 2
Camping Gear
• Berghaus Bergen
• Coleman Tent
• Sleeping Bag
• Gore Tex 'Shroud'
• Mattress Roll
• Lightweight Gaz Stove
• 500cl Butane Gaz x 2
• Lightweight Kettle
• Thermal Mug
• 'Spork'
• Torch
• Wash Kit & Toiletries
• First Aid Kit 
• Exposure Bag
• 10l Water Carrier
• Walking Pole
• Lighter x 2
• Swiss Army Knife
• Midge Repellant
FOOD & DRINK - Coffee, Chocolate, Chai Tea Sachets x 20, Pot Noodles x 4, Beef Jerky x 3, Pepperami x 3, Cereal Bars x 8, 500gm Cashew Nuts, 500gm Dried Apricots, Multi-vitamin Tabs
Clothing
• Paramo Jacket
• Rab Down Jacket
• Over-Trousers
• Fleece Jacket 
• Fleece Shirt
• Walking Boots
• Hiking Trousers x 2
Thermal Vest x 2, Thermal Long Johns x 2, Walking Socks x 2, Woollen Hat, Woollen Gloves x 2, Sunglasses, Belt, Midge Hood
* The Flash Effect 
I discovered the effectiveness of using flash in my seascape photography over a decade ago.  After seeing what it did in correcting colouration in my underwater photography, I wondered if flash might work above the surface in balancing colouration in the longer, blue hued captures that come at either end of the day?  I was delighted to find that at sea level, where the salt-laden air is densest, the 'flash effect' could be seismic in capturing the colouration I was seeing.  Especially in low pressure, depression atmospherics.  Moreover, at any time of day, it picked out detail amongst dark shadows that the digital sensor cannot effectively penetrate.  This way I achieved in a single 'in camera' image, what software assisted image 'stacking' can achieve, but which won't work in the littoral because of the continuous movement and motion.  To top it all off, if I got my timing spot-on, I could pop glorious 'freezing' detail into a rushing wave's motion.  Today, my flash gun is a permanent fixture on my seascape set-up as well as a regular conversation point in my camera club presentations and talks.