Cornish Seascape Workshops
'You, me, your camera and the Sea'
AWARD WINNING WORKSHOPS
My Cornish Seascape Workshops have won a prestigious award in the UK. Voted for by the readers of Photography News, I won 'Best Training Provider 2022'. 
This tremendous accolade will spur me ever onwards in providing 1-2-1 excellence!
Read on to find out more...
'BEST TRAINING PROVIDER'
WINNER
Beyond being my job, Seascape Photography is my passion and I thrive on the challenge of shooting wild and remote tidelines.  For here, where waves run free, photography comes with an exciting adrenaline rush.  Because the sea is a wild, dynamic, expressive visual element that piques the senses and stirs the soul.  
Therefore, when I moved to Cornwall ten years ago, I created Cornish Seascape Workshops.  A unique, one-to-one residential course that offers photography enthusiasts the chance to join my coastal adventures.  To discover enlightening new aspects in the Seascape craft, and hone camera and post processing skills on some of the finest coastline in the world.  
The perfect destination
The Cornwall peninsular boasts a magnificent array of locations.  From towering cliffs to vast golden beaches, hidden coves to hushed estuaries, the diversity is breathtaking.  When you add the turquoise Atlantic Ocean, and the fact the dawn and dusk can be shot a few miles apart, then, providing you know when and where to go, Cornwall offers the perfect Seascape destination. 
Freedom of expression
Creative inspiration abounds on a remote shoreline as superb light and glowing reflections transition in the viewfinder.  There's a sense of oneness with your incredible surroundings when conducting, composing and capturing beautiful moments as the elements come together.  
This is why I chose to run one-to-one courses.  Because a larger group compromises such freedom.  On my course, I will guide you to stunning locations where you are free to roam and express yourself.  It's just about you, me, your camera and the sea.
All-Inclusive comfort
The course is based around a multi-day format because there's so much to see, shoot and cover off.  Beyond the limited location variety and learning constraints of a day trip, your staying means you can immerse yourself in your photography and post processing for your chosen number of days.  Giving you the time to relax and enjoy taking everything in.  
Plus the no hassle, all-inclusive package means everything from luxurious en-suite accommodation to delicious food and all your workshop transport is covered. 
My credentials
The workshop is founded on my award-winning Seascape Photography approach and the wide-ranging experience gained in a 30+ year career in London's advertising and design industry.  Behind the camera, in the 'analogue' dark room and the digital studio, I have worked with blue chip clients in many markets.  I started working professionally with Adobe Photoshop in 1990 and have in-depth expertise in both manipulating and teaching its unsurpassed 'Fine Art' imaging capabilities. 
Which leads to another important asset - my client-facing skills.  Running a successful workshop takes more than just a talent for photography.  It requires the ability to engage at a level that inspires trust and builds an understanding that promotes self confidence, experimentation and expression.  
Moreover, it requires extensive, in-depth, locational knowledge.  Through 40 years of photographing and wider adventures in diving, kayaking, surfing and fishing around Cornwall, I have gained a wealth of it.  While based in Crantock on the Atlantic Coast, the workshop ranges from Trebarwith Strand in the north, down to Land's End and back up around the Lizard peninsular to Cribbin Head in the south. This is because the quartz-laced geology, golden beaches and rugged coastal formations found below Bodmin Moor are so engaging.  This is quintessential 'Cornwall' and I will match the prevailing conditions to your aims and aspirations and guide you to stunning locations, often way off the beaten track. 
Taking all this together, in terms of individual focus, professional experience, course content, state-of-the-art studio facilities and geographic reach, my Cornish Seascape Workshop is unique and unmatched. 
The workshop ethos
Beyond the static outlook of land-locked Landscape photography, the sea's moods, tides and motions add ever-changing dimensions to a coastal vista.  Therefore the Seascape discipline has many more moving parts.  Complex compositional dynamics that require a deeper understanding and consideration if the elemental interplay is going to be successfully interpreted and captured.  
So I will introduce you to reading the sea's patterns, its influences and many states.  You will gain an understanding of the interplay between light, rock, sand and atmospherics. From an array of specialist Apps, you will discover how to use their invaluable information in location choice, littoral approach and safe, successful shoot planning.
When down in the littoral - the shoreline span between high and low water marks - the elements are in a constant state of seemingly chaotic flux.  Beyond tidal ebb and flow, there are a host of other visual considerations to take into account.   
Yet within the chaos, I will show you where and how compositional order can be found.  To predict, conduct and compose around the flow of a rushing wave.  To catch fleeting reflections in the ripples of the quickly draining sands.  To capture genuine colouration and pick out textures in quartz-flecked rock formations and filter sunbeams breaking through the scudding cloud sweeping the horizon.  I promise this will be a rich and rewarding photographic experience.
Yet it will also be a challenge where success lies in being in front of events and action.  For here software assisted options like auto settings, bracketing, image merging or stacking simply can't cut it.  Because as I have said, this is not a static landscape.  It's a living, breathing environment of constant transition.  Here everything has to happen 'in camera' and this is where true photographic success lies.  Gaining the knowledge and skills to conduct and compose around all the elements at play and bring them together to capture the dynamic expression of a fleeting moment. 
And this is what my workshop focusses on. 
In wave-washed tidelines, on jutting rock outcrops and atop towering cliffs, you will explore using manual settings, filtering and light manipulation to capture your own Seascape 'expressions'.  This is an exercise in mastering your camera that will resonate across all your photography.  So beyond taking away some cracking Seascape images, I guarantee you will go home a better all-round photographer.
The ultimate post processing solution
Back in the studio you have my undivided attention, because post processing plays a vital 'refining' role in Seascape photography.  Here I will show how Camera Raw through Photoshop CC offers you the ultimate Fine Art imaging solution.  No other programme is capable of attaining such incredible levels of finesse in developing a final image.  So if you aspire to achieving the very best in the digital darkroom, here's your chance.
No matter your experience level, I will introduce a linear workflow that cuts a clear path through the maze of sliders, layers and filters and leads to gallery quality images.  This is where the multi-day format really comes into play.  There's time enough to take everything in.  I have often hosted out-and-out Photoshop beginners, yet after just a few days they have gained a competent level of ability and the confidence to explore further.  Moreover, if you're already acquainted with Photoshop, I can widen your horizons to advanced techniques that will take your image processing - and if required, proofing and printing - to new heights.
Your Cornish Seascape Workshop choices...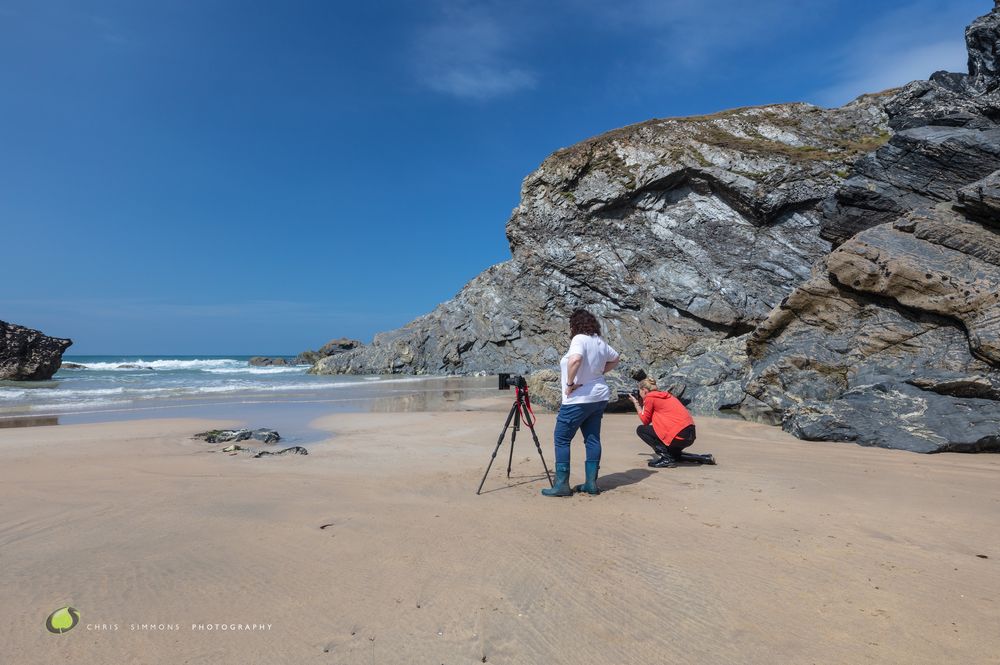 Solo, partners, or two friends?
My workshop is ideally suited for a solo photographer but it can easily be extended to an accompanying partner or friend.  The solo client gets my full attention but the pair benefit from splitting the cost.  Whatever you choose, I will guide you around superb locations through all the blue and golden hours and beyond.  The shoots will be in line with your experience and comfort levels, while my guidance will match your aspirations.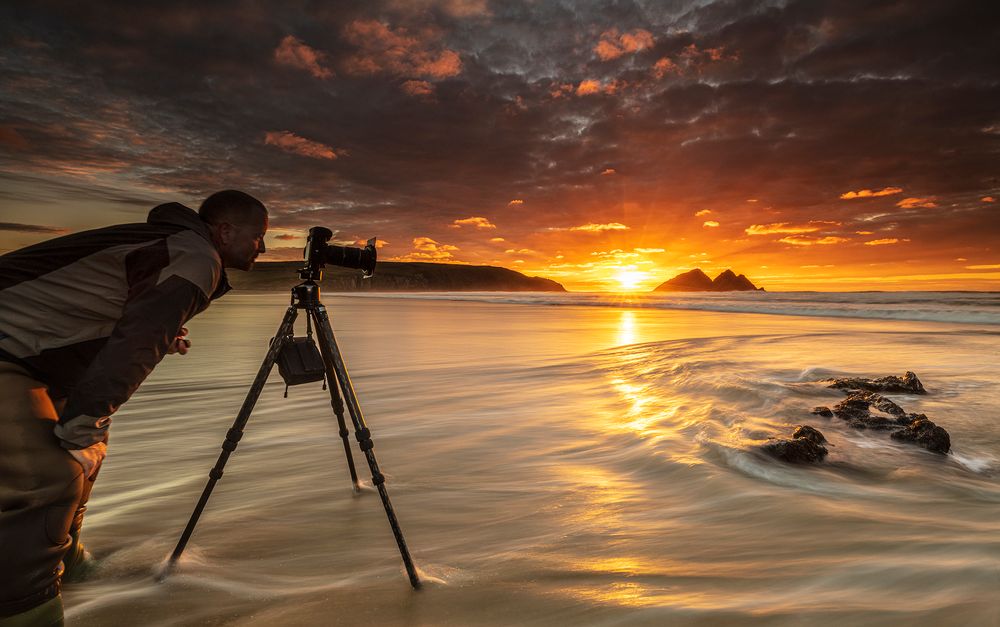 Four season availability
Because the seasons play such an influential role in coastal atmospherics, I run courses all year round.  I like to offer the complete Seascape experience, so you can choose when you want to visit.  Many clients return time and again to shoot through the seasonal evolutions. Matching their choice of timing with their growing Seascape skill set.
So here's a brief overview of the seasonal range you may want to consider...
Spring  
A time of regeneration with vivid colours, brightening skies and lengthening days.  As the sunlight strengthens the cliffs become carpeted with flowers and the Atlantic takes on bright turquoise hues.  Yet there's always the chance of a low pressure front setting the big waves free.
Summer
Long sultry days and vibrant sunrise and sunsets abound at this time.  This is usually the easiest season to photograph in terms of shoot conditions.  So if you are new to shooting on the coast, this is the ideal time to learn.  Yet very early starts and late returns make 2 or 3 days the ideal course duration.
Autumn
The golden time of rich, rewarding atmospherics plus the increasing chance of some big wave action.  Temperatures may be chilling down but the shortening days make for 'easier' set-out and return times.  This is my busiest period so book early!
Winter
The stormy season of glowering light, big seas and tempestuous atmospherics.  The chilled golden hours extend with the low sun and 'wild Cornwall' is at its brooding best.  Ideal for diversifying Pro's and seasoned 'Seascapers' looking for a rewarding challenge.
Workshop duration
The flexible course structure means you can choose from a 2 to 5 day stay.  Everything is about you and how long you want to immerse yourself in your photography for.  My only focus is your enjoyment and personal reward.
Therefore, after the initial shoot, unless further hands-on guidance is requested, I will take my cameras along.  Yet I will always be close-by to keep an eye on the sea, point out evolving aspects and maybe offer a few setting or filtering tips.  Yet it's for you to capture your moments as you see them.  
Likewise, back in the studio, this is your chance to have my undivided attention for as long as you want.  I will give you the tools to process an image beautifully.  Yet its final expression is for you to conjure.  This way you create a body of work that reflects your own take on the Cornish coastline through your new-found skills and understanding.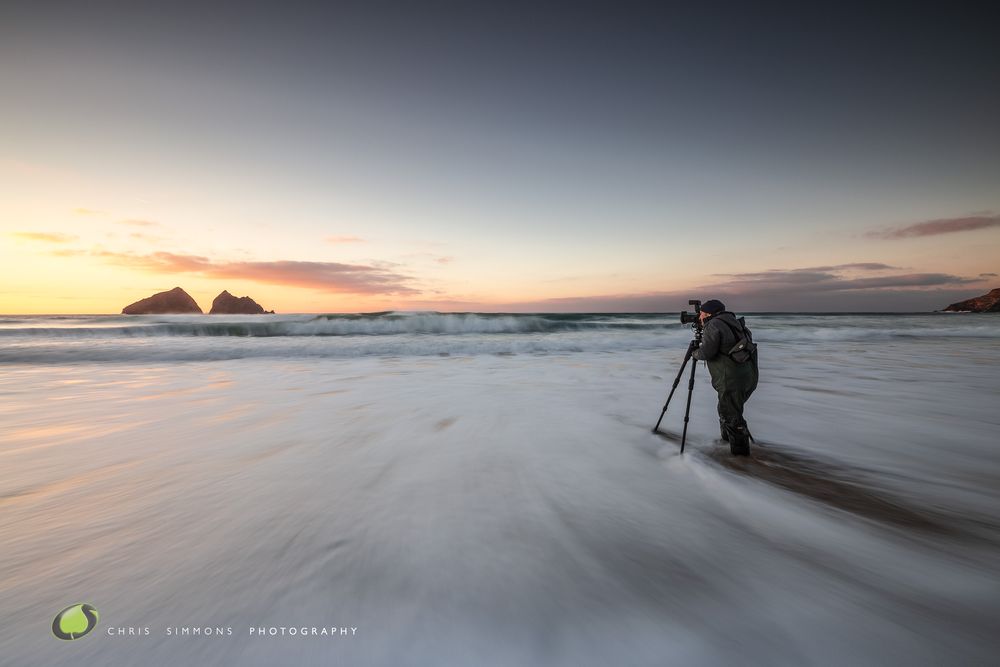 What to bring
Ideally you are a fairly experienced photographer who can work with Manual settings and you shoot in Raw.  All you need to bring along is your Camera - with a spotless sensor! - a Wide Angle Zoom (such as a 16-35mm), maybe a Telephoto Lens (such as a 100-400mm), a 100mm Slot-In Filter Holder with Lens Adaptor Rings*, a Flash Gun (if you have one), a Tripod, a Back Pack, sturdy Outdoor Clothes, Wellingtons**, Walking Boots, Note Book and a Back-Up/Thumb Drive.
* I have an extensive range of Lee Filters to borrow from on a 'you scratch it, you replace it' basis.
** Chest waders add a new dimension to photographing in the littoral, so I can offer you a pair if you really want to get in the flow!
Workshop Timing & Scheduling
To avoid busier weekends, courses usually start around mid-day on a Monday or Tuesday and run through to mid-day of the day of departure.  Due to the amount of information, location variety and processing guidance I want to impart, 2 days is the shortest workshop I offer.  This will include 2 x Dusk shoots, 2 x Daytime shoots and the choice of 1 or 2 Dawn shoots - depending on your travel plans - with multiple studio sessions in between.  5 days is the maximum course duration for first-time clients, yet any stay can be bookended with additional B&B day/s to help with travel arrangements or jet-lag.
Your workshop will be tailored to suit your comfort level, so age or agility is not an issue.  Currently my most senior client is a sprightly 85 year old who has been down twice (and was delighted to have a workshop image accepted into the London Salon of Photography for the first time). 
For those wishing to heighten their proofing, printing skills, along with the choice to take framed images away, I offer a Print & Framing Day.  
Workshop Prices 
SOLO  - 2 Day Workshop - £1,190 -    Additional day +£550 - max 5 days
TWIN  - 2 Day Workshop - £1,730 -    Additional day +£850 - max 5 days
PRINT & FRAMING DAY - + £490 + materials and frames
-----------
Additional B&B + Evening Meal - £95 per person per - max 2 nights
Additional Information
TRAVEL - For guests travelling by Rail or Air, Newquay Train Station and Newquay Airport (NQY) are just a few miles away and pick-up and drop-offs are free.  For those arriving by car there's ample parking.
ACCOMMODATION - The main guest bedroom has a double bed with en suite shower/WC alongside TV, Radio, WiFi and Tea/Coffee making facilities.  The second guest bedroom has a single bed with a separate bathroom/WC.  Food menus are based on client preferences and all dietary requirements can be catered for. PLEASE NOTE THE ACCOMMODATION, STUDIO AND CAR ARE NO SMOKING AREAS.
CAMERA & EQUIPMENT HIRE - I offer a complete Full Frame DSLR Camera set-up with 16-35mm Wide Angle, 24mm Tilt-Shift and 70-200mm Telephoto lenses, plus Tripod, Filters and Flash Gun.  Please contact me for details and prices.
CONTACT -  For further information or to make a booking, please contact me by email - chris@c-simmonsphoto.co.uk or phone - 01637 831251 - for international callers please call +441637 831251 
"Client Reviews..."
There's nothing better than word of mouth to promote my workshops.  So here's a selection of client reviews that I hope will persuade you to get in touch...
'As ever, superb!'
Dear Chris,
Beyond the incredible photography which was, as ever, superb, with your skill and finesse, you have single-handedly changed my life.  After some particularly challenging times, I arrived in Cornwall with a deflated spirit.  Yet I returned home mentally invigorated.  Finally, peace of mind and serenity have settled my soul.
So my Cornwall plan came to fruition and did what I could only hope for! With a few emotional moments in conjunction with the wonderful hikes to extraordinary coves, I truly found a haven! 
You and Sam really rolled out the proverbial red carpet. Your hospitality, ability in tantalising my tastebuds with your succulent meals, unwavering support and love hadn't gone unnoticed. I can't thank you enough! I have the highest level of love and respect for you both. 
Chris, you are the quintessential Seascape photographer! Under your guidance, I have heightened my artistic ability ten-fold.  I'm honored to have you as my photography mentor and a friend.
Respectfully,
Claudette Devereaux, Long Beach, California
"...they get better and better!"
"I have just returned from a three day Cornish Seascape Workshop with Chris. This is my third time doing his course and they just get better and better! When I first considered attending a photography workshop, it was because I was seeking to improve my skills. 
However, I was put off by the prospect of being part of a group. I felt I wasn't going to do so well in such a situation. I then spotted Chris's advert in Outdoor Photography Magazine and on seeing that he provided one to one courses, decided to get in touch. It was the best thing I have done, not only because Chris's workshops are amazing and I continue to learn so much, but also because they are great fun and I have made a friend for life!
Chris is a very skilled photographer and I've learnt so much about the technicalities of composing and creating great seascape images. However, for me, the most valuable thing Chris has helped nurture in me, is the ability to emerse myself in the beauty and drama of each location. Then to be able to create images that capture the essence of what I was seeing and feeling at the time. Chris's incredible passion for the beauty of the Cornish coastline is so infectious and inspiring.
Another part of the workshop experience is going back to the studio where Chris helps you review your images and to process them using Photoshop. Chris is hugely encouraging and patient, and teaches in a relaxed and guiding way that is ideally suited for me. The great thing is, there's not a set workflow that simply repeats, instead he promotes treating every image individually. 
As for the location shoots, he develops an itinerary that best suits your needs, realising that every client is different.
Lastly, the workshop includes lovely accommodation and great food and Chris is also an amazing chef!
I will end by saying that if you are considering attending a worksop, then why not get in touch with Chris and have a chat? It could be the best thing you have done."
Steve Hammond, Surrey
"Brilliant!"
"Dear Chris, what can I say?..
Brilliant Accommodation! 
Brilliant Food!
Brilliant Company! 
Brilliant Locations!
Brilliant Teacher/Guru!
Brilliant Studio Work and App Tips!
Brilliant Processing, Printing and Framing Lessons!
Brilliant banter about Indian food and your new favourite Masala Tea!!
... and to top it all,
I came to Cornwall for 3 days and returned with two new friends!
With your help and guidance I have become a more mature photographer. I have acquired new Seascape skills and learned from you - Camera Craft, Raw Processing using Photoshop, Camera Raw and Bridge which I will be able to use and develop across all my Photography.
So obviously I will be coming back for more later this year.
Best wishes to you and the lovely Sam,
Regards,
Yogi
PS. Don't worry, I will be writing a Google review, but it's difficult to find the words to adequately describe just what an amazing time I have experienced!!"
Yogi Patel,
A Professional's View
"As a Motorsports photographer, I wanted to leave pit lane noise and press office pressures aside for a while and take some time out with my camera.  I needed a new discipline to challenge what I do, while still being out in the open air, as I love the outdoors. 
Landscape photography it was then, but where to start out? 
Attending a course would be the best introduction, so I looked at a few photography magazines and 'Googled' the various courses on offer.  Chris Simmons' Cornish Seascape Workshops caught my eye as Cornwall is one of my favourite places.  The one-to-one format and a bespoke programme was ideal for me rather than a group course as I know my way around a camera but there were specific things I wanted to learn; in particular using filters and processing raw images.   
I've spent my career shooting jpg's therefore have only used the very minimum of processing in Photoshop.  Most often the final image processing was done by the Art Department of a magazine.  So when venturing into this daunting 'maze of Layers', a personal guide sounded ideal. 
The all-inclusive bit made sense too, particularly because of the early starts, and meant that I didn't have to book separate accommodation or organise meals, and any concerns about staying in a stranger's house were soon put to rest when I read his client's reviews.  So I gave Chris a call, and that was it.  We immediately got on and I booked. 
I'm so glad I did as I had such a great time, even though he got me into the most unflattering pair of chest waders!
Out on the racetrack I look through the viewfinder to catch something I know is going to happen.  Yet here I was on a beautiful beach, watching clouds converging, waves breaking, light reflecting, sun rising, sun setting, waves advancing, waves receding, rocks sparkling, sand shining...  There was just so much to process in trying to balance it all. Yet with Chris's guidance and excellent compositional technique that he had explained in the pre-shoot briefings at all became clearer.  Then ultimately, pressing the remote release at that exact split second to catch "the moment", as he calls it.
I had great fun using different Manual settings, wide angle lenses and a vast selection of filters, fill-in flash, tripod handling (…not my forte as I am only used to a monopod or hand held), precision horizon levelling and cable triggers.  It all made for a completely new and thoroughly exciting experience.
Manual focussing!... Really? I had only just got started reading Canon's massive on-line Auto Focus guide for the 1DX! So I wasn't convinced to start with but manual focus certainly works well for Seascape photography.
Then we went in to the studio and opened my raw images on a huge iMac Pro screen and I was amazed before we had even touched Photoshop.  Yet once we had worked on the very first image I was a raw and Photoshop convert!  The textures in the rocks, the sky's detail, the sea's flow, the reflections, the sharpness, the colours, everything looked fantastic yet so natural.  Just as I saw them… as I am not at all keen on overly 'manipulated' images.  Chris's workflow process was so versatile and simply incredible!  
I took lots of shots… must be something to do with the day job… and I am so glad I did.  For when I saw how many 'keepers' I'd got, I knew my new website and next exhibition would have some great alternative content.
So from a photography point of view, Chris's Seascape workshop was a complete revelation.  A huge step beyond what I thought Landscape photography would be and his passion for his art is totally infectious. I had a great time and learnt such a lot in my three days.
From a personal perspective, I had a really relaxing stay (not counting the 3.15am alarms!) in very comfortable surroundings with Chris and Sam's welcoming hospitality and fabulous food. 
So I thoroughly recommend this course to any photographer who wants to discover an incredible world of Cornish Seascapes."
Carole Mclatchie - FBIPP  ARPS
A local's perspective
"Hi Chris,
Thank you so much for the seascape workshop, I'm still buzzing from just how much I've learned!
You said to me before I booked that you would help to "transform my photography", which I took with a pinch of salt to be honest, as I had hit a brick wall in many aspects and was feeling frustrated. But you certainly did transform it! I got my head around using Manual settings and I'm a thousand times more confident with processing raw files through Photoshop and I'm finally over that brick wall!
From the warm welcome I received upon coming to your lovely home, to the stunning home-cooked food, and being taken out to amazing locations, I loved every moment of the workshop (and will be returning for another!). 
Thank you,"
Chris Fletcher, Wadebridge, Cornwall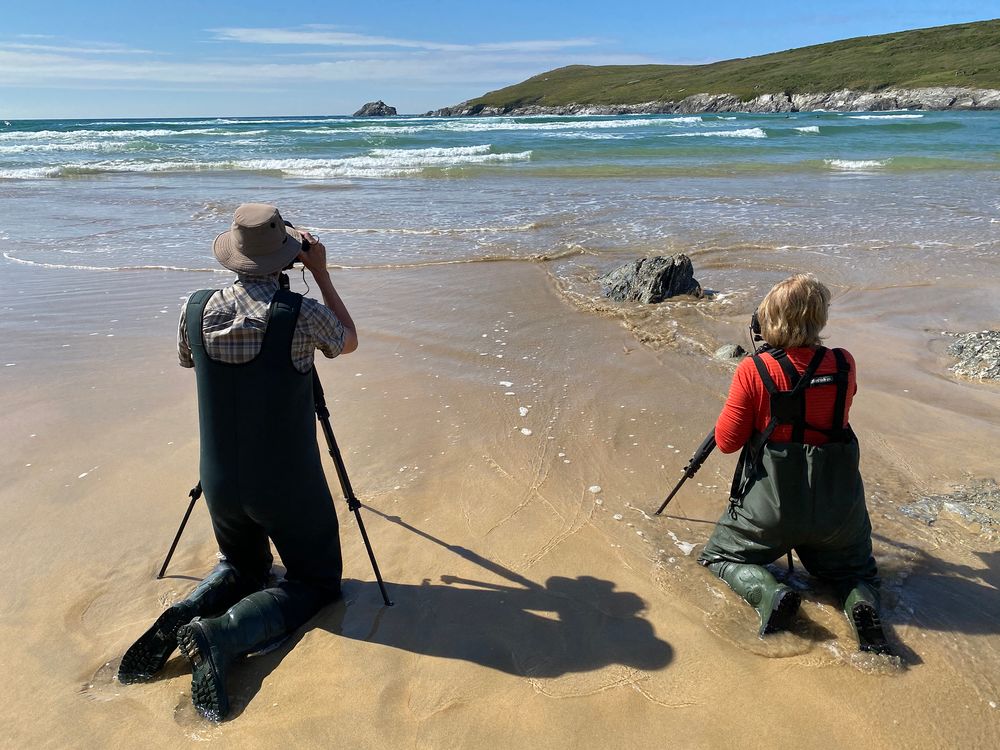 "A fabulous springboard"
"Hi Chris,
We just wanted to thank you for such a wonderful workshop.  We had an absolutely brilliant time and now feel much more confident in our ability to capture decent seascape images.
We really liked the way you demystified the whole process for us.  Your approach was both pragmatic and practical and you have an engaging personal style which enables you to get your points across really well.  We really appreciated the fact that you discussed potential locations with us before the workshop and as a result we went to some 'world class', yet readily accessible locations to shoot the sunrises and sunsets.
We also liked the fact that you were flexible with the workshop content and tailored it to our level of experience.  As Lightroom users, we found the studio sessions absolutely invaluable as you introduced us to the benefits of using Camera Raw and Photoshop to edit our images.
Thanks for the advice on which filters we should buy; however we haven't splashed out on chest waders... YET!
We enjoyed the fact that you base the workshop at your lovely home and the meals you cooked were absolutely delicious.  It was so handy and let us completely immerse ourselves in the photography.
So in conclusion Chris, your Cornish Seascape Workshop exceeded our high expectations and gave us a fabulous springboard to dramatically improve the quality of our image taking and processing.
With our very best wishes"
Mark & Angela Howard
"You have taken my photography to another level"
"Hi Chris
First and foremost, a big thank you to yourself and Sam for being such great hosts during my stay with you.  On meeting you I immediately felt relaxed in your company as you put me at my ease and welcomed me into your lovely home. Great company and great food!  Thank you both. 
I have three significant take-aways from your amazing workshop experience: well researched knowledge of sites is essential; Photoshop is not so scary after all; and don't assume that a nice walk with your camera will turn in good shots. They don't come to you, you have to get properly prepared and go out there and get them.
There's no doubt Cornwall provides plenty of opportunity for Seascape photography, however knowing the great locations to go to experience the best opportunities for extraordinary light and drama within a two day window - even if it does mean getting up at 3.00am - can only come with your exceptional local knowledge. 
As I think I said while with you last week, your incredible workshop opened up the magic and power of Photoshop to me.  My 'go to' post processing tool has always been Lightroom.  PS was always a scary step too far and anyway, what could it do that the LR grad filter and clarity and saturation sliders couldn't?.. Well how wrong could I be!  By following your simple work flow, I learned how to turn the acceptable into the exceptional, and I now have the confidence to further broaden my knowledge of this amazing programme. 
Of course, even Photoshop needs an image that is at least 80% there in terms of composition, light and colour, and here your guidance on filters, camera settings, positioning and composition was invaluable - and thank you for the loan of the filters and the chest waders!
I may not be at competition winning standard, and in fact that's not my goal, but you have taken my photography to another level and I'm really excited about putting all the lessons of these intense yet fantastic two days into practice.
So again thanks for exceeding all my expectations of this Seascape course.  I will keep in touch and maybe take advantage of a further session with you either in the autumn or winter months.  Until then I have a lot of practice to do, and a lot of old photos to re-visit in PS! 
My very best wishes to you both.
Regards"
George George
"I am a much more enlightened and capable photographer"
"Good morning Chris, 
I just wanted to say thanks a million for a fantastic couple of days. I really enjoyed the workshop experience, the tuition, welcoming hospitality and the great food, but most of all, a really good time!
You took me to some cracking locations and gave just the right amount of guidance when needed.  I have been on courses where the leader might have well been taking the picture themselves ('do this', 'do that') but your style is very comfortable and it was easy for me to understand what I should be looking to achieve.  I don't think I will ever shoot in more challenging conditions and the waders were a revelation, but I have learned a huge amount.  Not only about techniques, but also composition and how to get the best from the coastal conditions.
Thanks to you and Sam for welcoming me into your lovely home and for the five star treatment. Your B&B/residential concept works really well and I felt totally relaxed and very much at home. 
The time in the studio was invaluable and my working knowledge of Photoshop has increased immeasurably. Some really top notch advice on how to refine a photograph without impacting on its integrity.
You have a real talent Chris and a passion for what you do. You clearly love the Cornish coast and the enthusiasm you have for it can only rub off on people like me.  I'm really looking forward to processing more of my images over the next few days and will send you some. 
Overall, I feel I am a much more enlightened and capable photographer than the one I was when I turned up on Tuesday. I will definitely be back in the winter to shoot seascapes in totally different conditions. 
Cheers"
Garry MacDonald, Cheshire
"Exceeded my expectations in every way"
"What a fantastic couple of days seeing and photographing some truly spectacular Cornish coastline!
I booked this 2-day 1:1 workshop with Chris after seeing his Cornish Seascape Workshop advert in Outdoor Photography and visiting his website.  I took a look at his photography, read about his workshop and decided this could be for me.  I am a reasonable accomplished photographer but didn't have significant seascape  experience and wanted to give it a try.
I am delighted to say that the trip exceeded expectations in every way!
Chris is an experienced professional who now focuses on seascapes - his knowledge of both the discipline and the topic is bottomless.  As is his understanding of the Cornish coastline.  He knew the best places to visit for sunrise and sunset shoots and how to get the best from the opportunities that the weather conditions presented.  In his studio, he showed me the way to get the best from my shots using Camera Raw and Photoshop, something I had been wary of until now and the results were excellent!
He can accommodate 1 or 2 people in his COVID aware home and looks after all the details so well...meals, snacks, transport, briefings, the best locations based on sun and tides - everything.
I arrived at lunchtime and was immediately put at ease by Chris - nothing was too much trouble and he has a very easy going approach. He clearly just wanted me to: a) get some great seascape shots (tick) and: b) have a relaxing and enjoyable time (tick).
I would recommend this workshop for anyone interested in Seascape photography - I know most of his clients return and I am sure I will be one of them!"
Tom Bird
"Excellent!"
"Chris, 
I want to thank you for one of the best photographic workshops I have ever attended.
Over the past 25 years I have been on many photo courses run by professional photographers around the world and in the UK.  These covered a wide range of disciplines - Landscape, Nature, Safari, Portrait, Wildlife etc. Yet your Seascape workshop stands out by far from any one of them. 
Let me elaborate a little more as I know feedback is important to you.  Firstly, it is rare to find a course that offers accommodation, food and transport and all you provided was simply excellent.  I was free to relax and enjoy my time concentrating on the photography.  Which leads to the most important aspect of all, your expert instruction.  I cannot express just how invaluable the in-depth insight and one-to-one format was to the overall learning experience.  While informal and relaxed, my five days were superbly organised, totally stimulating and above all, educational. 
The morning spent at 'Dinosaur Egg Cove' was a true inspiration.  I learned so much about the behaviour of the sea and now really understand the effects of tide, flow, cloud, currents, time and most importantly the light on capturing it's "mood".  Besides this, I also learned about varying manual settings to get different results from the same composition, and here your use of flash came as  total inspiration.  Excellent! I also appreciated you sharing your wide selection of filters and learning how, when and which ones were best to use.  All this made such a difference to my final images, that were indeed "captured in camera" as you impressed on me. 
Then we come to post processing, and what can I say? In truth, the time I spent in your studio has transformed my photography.  Again, the one-to-one aspect was ideal and I learned so much.  I really do now fully appreciate just how effective processing raw files through Photoshop CC is.  Until now, I always used Lightroom, yet the fine art workflow you have created is so intuitive and comprehensive, and as for the results, well my Cornwall pictures are quite simply, magical! 
I sincerely believe you should make your presence more visible to the wider photographic community. Because anyone who wants to improve their photography needs to get to know you and your Seascape workshop.
It has truly been a pleasure to spend those five days with you and Sam.  I'm hoping you take up my invitation of coming to Chicago and spending time with me and Melissa."
Kishore Karamchandani MD, MRCP
"THE best..."
"Dear Chris,
Just a quick note to say 'DANKE' for a most terrifically good time with you both. 
I learnt such a lot and will now be able to continue with Camera Raw and Photoshop, so I will be looking toward getting it downloaded very soon.  You have opened a new door in photography for me - I am thrilled! 
Thank you again for your generously given help, it was THE best course I have ever attended!
Best wishes,"
Marlis Rawlins, Wiltshire
Contact Me
Please feel free to call me or email to find out more and have a chat about your questions or individual requirements ;
Email: chris@c-simmonsphoto.co.uk
Telephone; 01637 831251  - for International callers - +44 1637 831251